Although the turmoil in Taiwan's plasticizer (DEHP) has passed for some time, people still think of it as having no time. Many consumers turn their attention to silicone products that are not harmful to health and are resistant to high temperatures and cold, such as silicone drinking cups, silicone crispers, and silicone wristbands.
In fact, in the textile printing and processing industry, silica gel, a nontoxic, non-polluting material, has been of concern to some companies. At the same time, Xiao Bian also learned that some companies have applied it to the actual production process and become the new competitiveness of the textile processing industry, bringing new profit growth points to the company.
According to a senior person in charge of the silicone printing field, "The core of the silicone printing process is to use green and environmentally friendly printing silicone material, that is, in the process of printing textile printing, using printing silicone instead of traditional glue, thermosetting ink and other printing Pulp materials." For example, we are exposed to clothing and shoes in our daily life, sports/microwave gloves, silicone printing with its unique wash, light, non-bleaching, strong performance, good decorative effect, harmless to the human body, etc. Many superior features have become the first choice for the textile printing industry.
Here we introduce the characteristics and application fields of silk screen printing silicone and pad printing silicone respectively.
Silk screen printing silicone
Screen printing silicone is a kind of special silica gel that can be firmly adhered to the surface of textiles by screen printing. It can be printed in color and supports a variety of effects (bright/matt, right angle/rounded).
With its non-slip, waterproof, high and low temperature resistance, health functions, decorative features, and more for a variety of non-woven fabrics, leather, leather, waterproof nylon / luggage cloth.
Printing silicone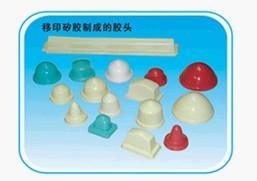 Printing plastic head is to use the plastic pattern on the steel plate as carrier, and transfer the pattern on the steel plate to the product. Silicone printing requires fine quality, no impurities, good resilience, good oiling, and clear pattern printing.
It is mainly used for the printing of irregular patterns such as toys, craft gift stationery, trademarks, communication equipment, and electroplating products.
With the integration of the international economy, people are increasingly demanding quality of life, I believe that more and more brands will choose silicone printing.
The cheongsam is a body-hugging one-piece Chinese dress for women, also known as qipao and was ROC's mandarin gown. The stylish and often tight-fitting cheongsam or qipao (chipao) that is best known today was created in the 1920s in Shanghai and made fashionable by socialites and upper class women.

Since 1930s, Cheongsam was popularized from young female students to all women in China regardless of their ages and social status. More and more female workers and celebrities put on Cheongsam. The style of Cheongsam also varied due to western costume`s influence. It changed from a wide and loose style to a more form fitting and revealing cut, which put more emphasis on women`s body line. The length of Cheongsam was also reduced from ankle reaching to above the knee.

All long ,people are linked to cheongsam and knitwear -- stitch work.
Cheongsam is a traditional Chinese dress ,to reflect the beauty of oriental women

The cheongsam (qipao) is a dress that can reflect the beauty of Oriental women. If it`s embellished with embroidery, it will be more beautiful...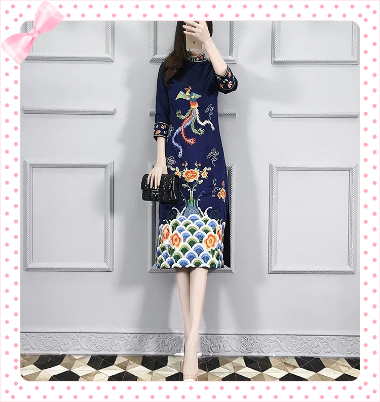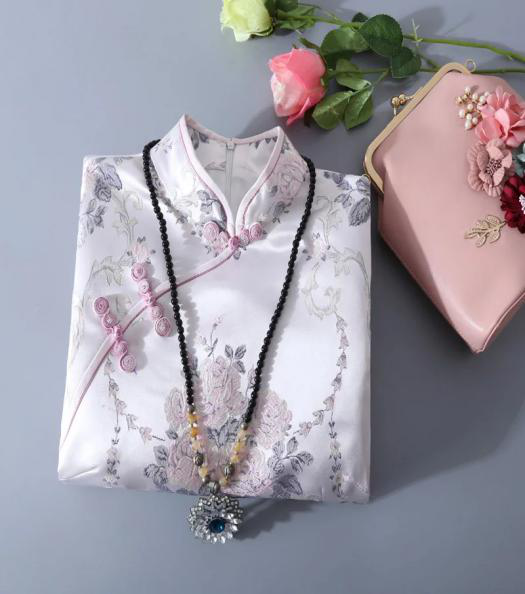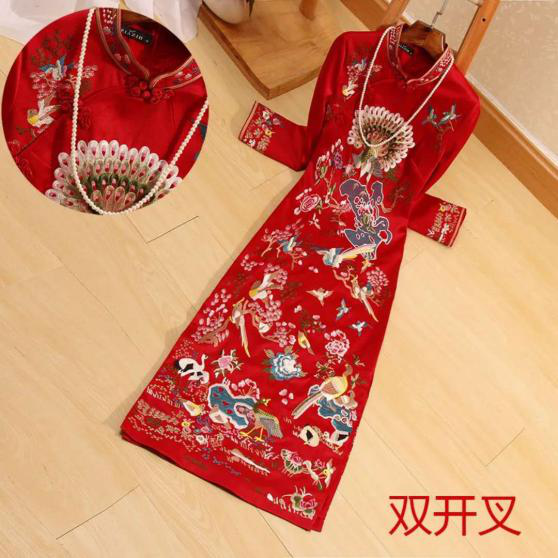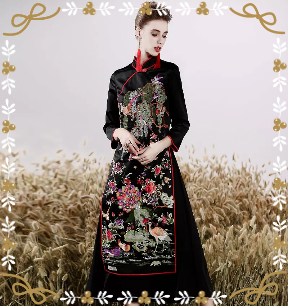 Hand Embroidery Cheongsam Dress
Hand Embroidery Cheongsam Dress,Fancy Embroidery Cheongsam Dress,Fashion Hand Embroidery Cheongsam Dress,Women Hand Embroidery Cheongsam Dress
Haiyuan Aisha Handicrafts Company Limted , http://www.aishaembroidery.com