Both sexy, but also sweet and playful lace dress in recent years by many MM's favor, whether it is a red carpet star or a person on the street, Lace's "temptation" everywhere. Is now the autumn and winter seasons, the lace is still as popular as the spring and summer? Lianuang fashion A / E brand and celebrities from the red carpet gave a positive answer ...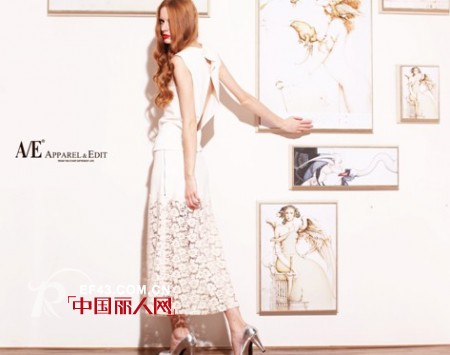 【2013A / E ---- APPAREL EDIT New LOOKBOOK】
At the recent 2012 American Music Awards, Hollywood actress Kerry Washington wearing a Stella McCartney 2013 holiday series yellow lace dress appeared red carpet, this lace dress can be applied to your fall / winter dress , With a tweed jacket with a fur collar and the classic shallow mouth high heels can be with a stylish autumn and winter lace dress. If you want to wear a lace dress for a holiday party, then Karlie Kloss and Allison Williams party lace dress can be used as your inspiration. And Alexa Chung's gray dress is perfect for matching elegance with pantyhose and classic black thick coat. There are more European and American celebrities lace dress, immediately follow the Aloo fashion A / E brand to see it.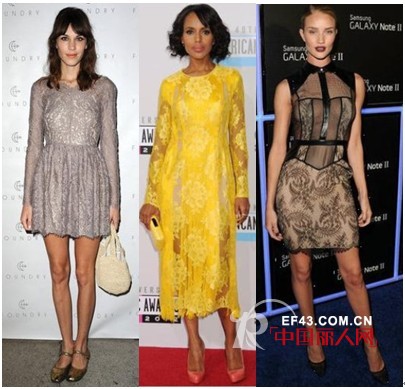 The Lover's gray lace dress worn by Alexa Chung is perfect for winter wear with pantyhose and classic black thick coat to create an elegant ladies range. (Left)
[A few days ago, at the 2012 American Music Awards, Hollywood actress Kerry Washington was wearing this yellow lace dress from the British brand Stella McCartney's 2013 Spring Vacation Collection. (Picture)
The sexy lace over-lace mini dress worn by the supermodel Rosie Huntington-Whiteley came from Jason Wu. (Image right)】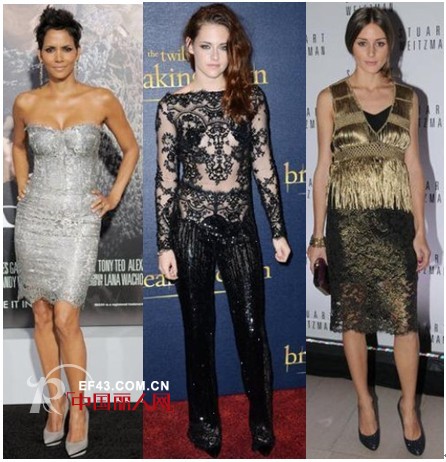 【Halle Berry style remains the same. She recently attended the movie premiere, she chose a very sexy Dolce & Gabbana silver breast lace dress appeared. 】
[Kristen Stewart wore a Zuhair Murad black sequined lace dress sexy in London's promotional movie Twilight: Dawn (Bottom). 】
[American celebrity olivia palermo] no matter whether the red carpet style or street shooting are not disappointed, her golden lace skirt from Tibi, with Bird by Juicy Couture gold fringed shirt to create A perfect party dress up. 】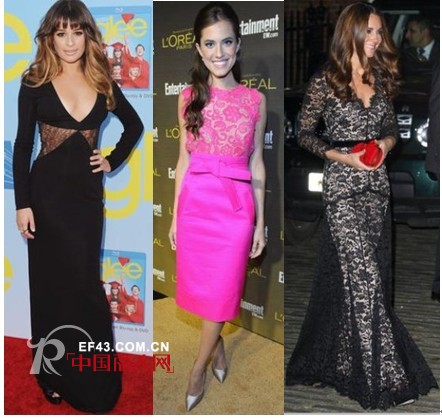 【】 In the Los Angeles premiere of the US drama "Glee", Lea Michele dressed in black dress appearance, Lace hollow design small sexy. 】
[Allison Williams chose an eye-catching, pink lace dress with a sexy lace upper body and a cute bow at the waistband. 】
[Seems like Kate Middleton particularly likes this black dress, and is worn on several occasions in this dress, from the British brand Temperley London. 】
As a fashion pioneer brand women's AE-APPAREL & EDIT advocates famous designer Lin Ting Perpignan (Rex KinG Lin) in the season's product design also incorporates elements of lace, between sweet and sexy but also reflects the lovely women Nature.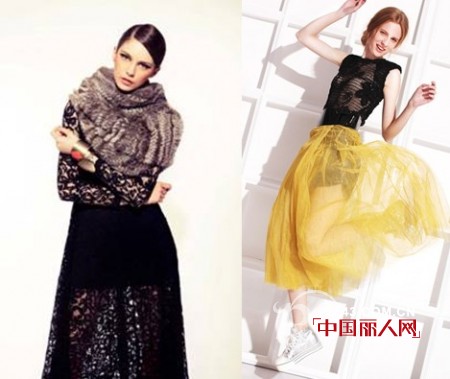 【A / E ---- APPAREL EDIT New LOOKBOOK】
A / E ---- APPAREL EDIT brand fashion from the fashion capital - France, A / E brand with a keen sense of touch keep pace with the international fashion trend, the integration of the international quarterly popular elements and a variety of popular style, demonstrated Women's casual, exquisite, playful character interpretation ... ... A / E2013 new products have been fully listed in Vientiane City, all kinds of charm all in one ......
(Liansu fashion A / E brand - brand center for)
Official Website: http: //
Official microblogging: http://e.weibo.com/2673501921/profile
We do not rely on low-cost customers to attract the eye and win cooperation opportunities,
we do
not
sacrifice the
quality of products to give you a low price as a competitive advantage.
we adhere to
product
innovation, great quality, environmental protection, service first,
profit-chain products,
target products
for
customers to create more value!
Tibet Lamb Skin Plate,Natural Curly Lamb Fur Skin Plate,Long Hair Tibet Lamb Skin Plate,Skin Cushion Tibet Lamb Fur Plate
Ningxia Ning Yuan Xiang Industry & Trade Co.,Ltd. , https://www.nyxfur.com